Enjoy an illustrated virtual tour of the Museum – for a limited time only – we are able to offer our visitor audio guide for you to enjoy online.  Thank you to Antenna International who worked with us to create the on-site guide for making this possible.
To get started and hear Henry Sandon, Lars Tharp and other experts tell you about our collections and the history of Worcester porcelain scan the QR code below with your smartphone (you will need a free app that reads QR codes) or click on this link take the tour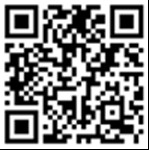 The tour is not an app – it takes you to a website link – so it doesn't use up a lot of memory or battery capacity on your phone or tablet. Please ignore the directions for the walking tour and instructions for the audio handset.
Enjoy your virtual visit!